With an expansive experience in the field, Delhivery offers easy and affordable trucking solutions for all customers. Our Full-Truckload (FTL) logistics can help you with all your high volume and high capacity needs in a cost- and time-efficient manner.
Full-Truckload services are generally required by businesses that are looking to haul bulk items and heavy loads across long distances. Under the scope of these services, the entire available space in a truck is assigned to a single customer for shipping their goods. The Full-Truckload transport provided by Delhivery ensures that customers can avail one of the best services at competitive rates.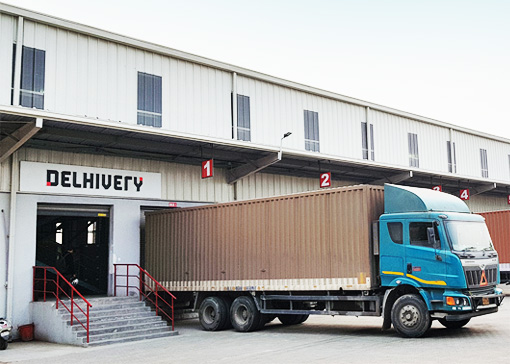 THE BENEFITS OF OPTING DELHIVERY FOR FULL-TRUCKLOAD SERVICES
Delhivery's FTL logistics services bring together not just specialized equipment to carry your heavy cargo, but also efficient delivery services. There are a lot of benefits that you can avail through Delhivery's FTL services, with the support of experienced professionals who are well-equipped to provide all the assistance throughout the transaction. These include:
Large Shipments: FTL shipping is the perfect choice when it comes to sending bulk items. This way, you get to keep all the available space exclusive for you and your business. Our team, on the other hand, is well aware of the permits and permissions that you will require to move the bulk shipment within a defined timeframe.
High-Risk or Fragile Shipments: Owing to the fact that Delhivery pays complete attention to the details when it comes to the loading and unloading of your FTL freight, Delhivery assures that your goods are in safe hands across longer distances as well.
Consistent Transportation: When you have exclusively booked space in a vehicle, there is no switching or repacking involved in the entire transfer. From the source to the destination, the shipment remains in the same truck, without changing hands or housing.
Faster Delivery: As the delivery does not involve switching trucks throughout the transfer, the freight can be sent in a time-efficient manner to the destination. These fast and reliable FTL logistics shipments are perfect for when it comes to answering unusually high demands for shipment, like during festive seasons or seasonal rushes.
THE PREVALENT TRENDS IN FTL LOGISTICS
The market for FTL freight and transport has been rather inefficient and fragmented. That is because the sector has faced a dire need for the implementation of technology for delivery partners to increase the visibility of information for their customers.
With an aim to offer businesses transparency and real-time information about their full-truckload freight, Delhivery deploys its proprietary technological capabilities to provide real-time updates for all shipments. Delhivery ensures that the customers are able to send their full-truckload freight with ease, thus ensuring timely delivery and complete safety of their goods.
DELHIVERY'S FTL FREIGHT AND TRANSPORT SERVICES
It is a known fact that there are several businesses with regular trucking requirements, some which have only seasonal freight requirements, and still other businesses which have regular trucking requirements that tend to increase seasonally. The FTL freight transport services provided by Delhivery are designed to efficiently meet not only your regular requirements for truck transportation but also to address seasonal surges all across the country. With a combination of our own truck fleet as well as a pan-India network of professional truckload partners, Delhivery ensures that all customers requirements are met at all times, regardless of the quantum of services required.
DELHIVERY: THE EXPERTS IN TRUCKING SOLUTIONS
Being a marketplace for trucks, Delhivery works with 6000+ truck partners across the country. These partners are empanelled onto the Delhivery platform for the due diligence of their fleet and their years of experience in the industry. This helps us ensure that we can provide our customers with a reliable pan-India coverage.
Among the countless shipment and delivery options we provide, we also take care of your FTL logistics needs. At Delhivery's freight exchange platform, customers are offered:
Transparency: We use our inbuilt technology to increase the visibility of trucks in the market across diverse lanes. The fuel expenses are also borne by us for completing deliveries across the nation.
Experience: We have a wide experience in network planning and execution with 12500+ monthly FTL trips in our Line Haul network.
Flexible Contracts: We offer contracts that are tailored to the requirements of our customers, including same-day spot contracts (placement within 12 hours of request), next day spot contracts, and forward contracts to lock in long term freight rates.
Dynamic Rate matching: We offer highly competitive rates, along with exchange works at the cluster level for optimized matching of trucks, and greater asset utilisation of partner vehicles as well to ensure allocation of high-quality vehicles at lower rates.
Industry Leading Service Precision: We employ verified vehicles and drivers to ensure the safety of the shipment. You can expect a "zero damage and loss" policy, on-time truck placements, dispatches, and deliveries from Delhivery.
Multiple Service Speeds: Based on your urgency, we offer express and standard turnaround times for deliveries.
Technology Enabled Service and Support: We have dedicated "Control Tower" operations for the 24×7 tracking of all GPS and non-GPS enabled trucks. Apart from this, Delhivery also offers a dedicated customer service to help deal with customer queries throughout the day via SMS, E-mail, and web-based alert systems.
24X7 operations: We offer round-the-clock services with automated LR generation, instant e-POD delivery, trucking partner management and also follow periodic end-to-end supply chain consulting and management to ensure we can deliver efficient services to our customers.
CHOOSING DELHIVERY FOR FULL-TRUCKLOAD SERVICES
We have a staff of experienced professionals who offer customers a high level of trust and teamwork. You can count on Delhivery for all your delivery needs, including FTL freight transport for shipments. To help build long-lasting relationships with our customers, we offer real-time tracking for all shipments to make it easy to keep track of the cargo and to stay updated with any pressing issues. We also have a highly responsive customer support team to respond to any queries or doubts.
Get in touch with us at Delhivery today and find out all you need to know about our FTL services.